With Climate Change on the world centre stage, creating eco buildings is becoming less of a niche and more of a need. As governments and corporations collectively develop new and innovative ways to reduce our carbon footprint, here is a list of five eco buildings that have future-proofed themselves with Green credentials.
Pixel Building, Melbourne, Australia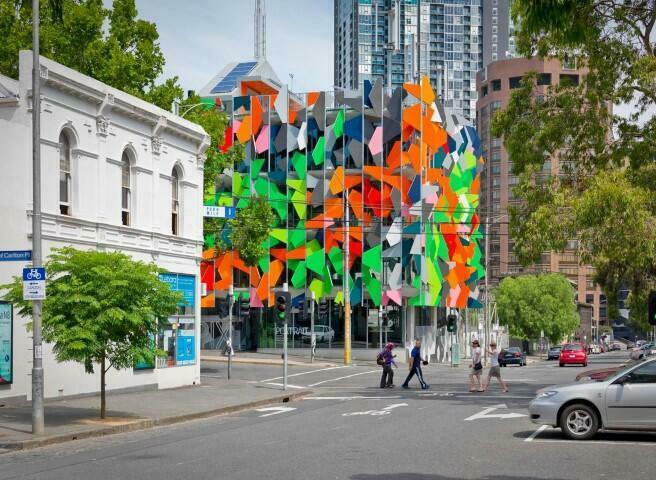 The Pixel building in Melbourne isn't just a pretty face. Behind the colourful façade (which itself I made of recycled panels) is a building that takes the top spot as being the most sustainable building in the world, and Australia's first carbon-neutral building. The building features many eco elements, which helped it achieve a perfect 6 Star Green Star rating. This rating is the highest possible score from the Green Building Council of Australia. Making it the top of our eco buildings.
So what green characteristics helped it to achieve such a feat?
The Pixel building itself is made of lower-carbon concrete, and features 1KW wind turbines and solar panels installed atop its rooftop, which help to generate the energy it needs to power this office building. The Pixel's roof also captures water that is filtered and used in the building, thermal cooling and vacuum toilets, which reduces the amount of water used in a flush! The Pixel Building was completed in 2010.
7More, London, UK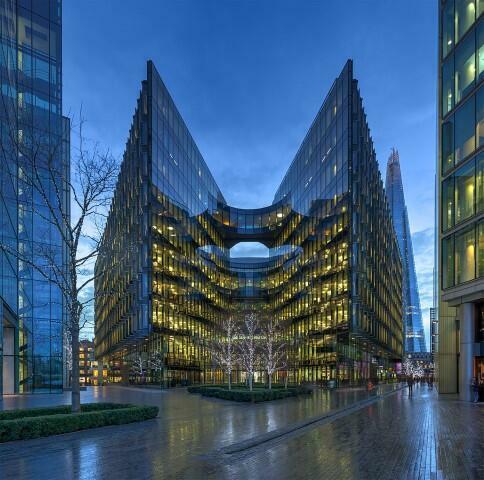 The 7More building was the first Building to achieve BREEAM Outstanding accreditation, which is given to less than one percent of new non-commerical buildings in the UK. The building was created with 80% recycled aggregate within the concrete, sculptured solar shading, and also has solar hot water panels. It also features a low-carbon heating and cooling source, with the installation of a bio-diesel Combined Cooling Heating & Power. The building generates 74% less CO2 emissions than required by 2006 Building Regulations. To top it off, the building was purposefully created in a zigzag pattern to let in more natural light.



One Angel Square, Manchester, UK
This building not only looks futuristic, it has also future-proofed itself by achieving a BREEAM Outstanding accreditation. One Angel Square has a multitude of eco-credentials, and even generates its own power through biodiesel cogeneration, using rapeseed oil, which provides for most of its heat and energy requirements.
The outside of the unique-looking building features a double-skin façade, that reduces heat in the summer and generates warmth in the winter. It has an 80% reduction in carbon emissions, and many ingenius ways to save and generate additional energy, which include: low energy lighting, greywater and rainwater recycling, and impressively, a heat recovery system from the IT systems (taking the heat that computers and servers generate and using it elsewhere).
CopenHill Power Plant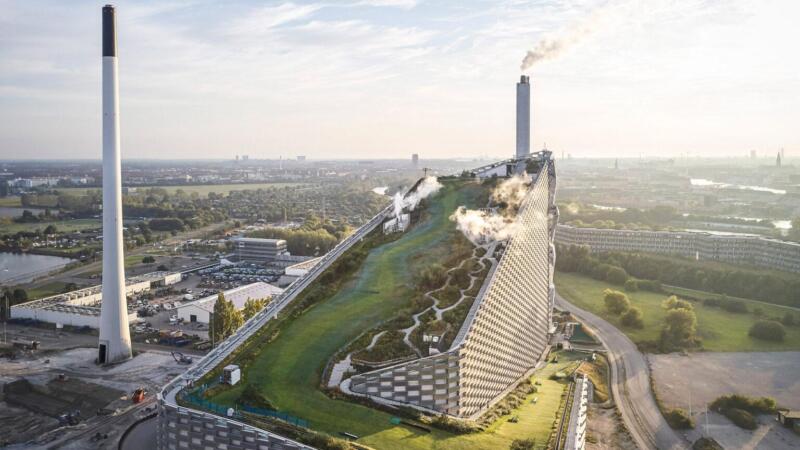 The CopenHill Power Plant is a waste to energy plant that sits in Copenhagen, Denmark, that not only produces energy, but also boasts Denmark's first ski slope. The Copenhill also has a restaurant and 270-foot climbing wall.
The Waste to Energy powerplant is the most eco-friendly waste-to-energy plant in the world. Two huge furnaces burn up to 300 truckloads of rubbish a day, at temperatures of 1000 degrees Celsius, creating steam, which then powers turbines that produce electricity that is fed into the grid. Any leftover steam is used to heat 72,000 homes… But wait, isn't burning waste just fueling our co2 problems? The particles and pollutants from the smoke are removed thanks to a process called Selective Catalytic Reduction, which breaks down harmful fumes into water vapour and nitrogen. Amager Resource Centre (ARC), the waste management firm running the plant, predict that by 2024 half of the waste they burn will be imported from overseas!


Bank of America Tower, New York
This cutting-edge building is the second-tallest skyscraper in New York, only surpassed by The Empire State building in stature. The eco features of this building were only included on the premise that they would pay for themselves in reduced operating costs within 5 years!
The building itself was constructed out of renewable materials where possible, and features an on-site natural gas-fueled power plant. The power plant accounts for 70% of its electrical needs, and heat wasted from the power plant generates enough steam to meet 100% of the building's hot water needs. The building was designed to let in as much natural light as possible to reduce the need for artificial lighting. Rainwater is also collected from the roofs of the building and is used for the restrooms and for the cooling system.