Fair Fight Foundation is an Australian charity who provide sick children with specially made hospital gowns called SuperTees that double as superhero Costumes. The idea is to give kids a morale boost, which can assist in their recovery. Five thousand sick children across Australia have received a SuperTee hospital gown to date. Over the next week SuperTees are planning their biggest single donation event. They will be donating 1,350 Super Hero costumes to terminally ill children in New South Wales hospitals. The SuperTees will be packed by volunteers including The Paramatta Eels (players past and present) and local businesses. This large event was made possible by a generous donation from local business Western Earthmoving who donated enough money for 1,000 SuperTees.
Supertee costumes are specially made hospital gowns for Australia's sickest children which double as superhero costumes. The hospital gowns work by bypassing medical lines and tubes, making it easier to change tops, take underarm temperatures. Above all the SuperTees have the added bonus of lifting children's spirits.
In and out of hospital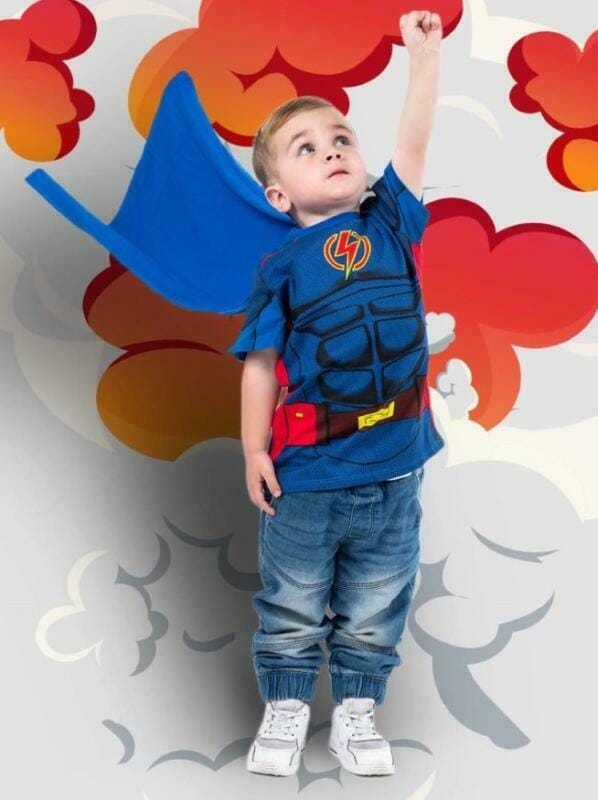 The efforts of the volunteers will help children like 3-year-old Lachlan Neilson, who suffers from cystic fibrosis. Lachlan has been in, and out of hospital all his life. After being diagnosed at just five weeks old. He has been admitted for treatment six times in two years.
When he was only 14 weeks old, he got his worst infection, a simple infection he picked up from preschoolers. As a result the infection forced him onto a IV drip for 14 days, in hospital.
Mum Lara says most people think of cystic fibrosis in the later years of a person, as their life is cut short.
"But for Lachlan, it impacts everything, his digestive system, reproductive system, he won't be able to have children, he constantly has infections," Mrs Neilson said.
Lachlan already loved wearing onesies, so getting his first SuperTee a year ago was life changing.
"The SuperTee for him, is his 'go to' when he's in hospital, he has to wear every time and have his photo taken. It's changed the whole tone of his appointments."
Help sick kids get superhero Costumes
SuperTees have a goal to deliver 5, 000 of their superhero gowns by Christmas eve they also have an ambitious aim to provide one to every child spending Christmas in hospital. Also helping is easy and it takes just a $45 donation to help a child receive a Supertee gift pack for free. There are also many other ways you can help for instance; host your own packing day, volunteer and host a fundraising event.