I believe it was genuinely love at first sight when it came to Julia Roberts. I was born with a neurological condition called Hydrocephalus. Perhaps my neurodivergence provides some insight into why I've often developed weird and wonderful "special interests" over the years. But for as long as I can remember, these hyperfixations have- more frequently than not- been with a celebrity.
I grew up with just my mum. No siblings or dad, so we were best friends from day one. She always embraced my hyperfixations, and encouraged my passions, no matter how eccentric.
I remember the summer of 2016 so distinctly. It was this summer that I became aware of Julia Roberts. Mum had been begging me to watch the movie "Pretty Woman" with her for so long, but I'd never shown any particular interest. Yet for some reason, on this one random day, I decided to sit down and watch it with her. I was instantly transfixed. I thought that she was beautiful, charming, charismatic, funny and so very endearing. Her character- Vivian Ward- was just so lovable. And it was there that the obsession began.
I am the type of person who really throws myself into a special interest. I'll spend hours doing research and will devote myself to a passion. So, when 28th October 2016 rolled around, I was very excited to celebrate the birthday of my new favourite actress – Ms Julia Roberts. I had never done anything like it before, but I asked Mum if she'd mind us baking a cake for the occasion. She was so sweet and encouraging, telling me she'd be delighted to help me.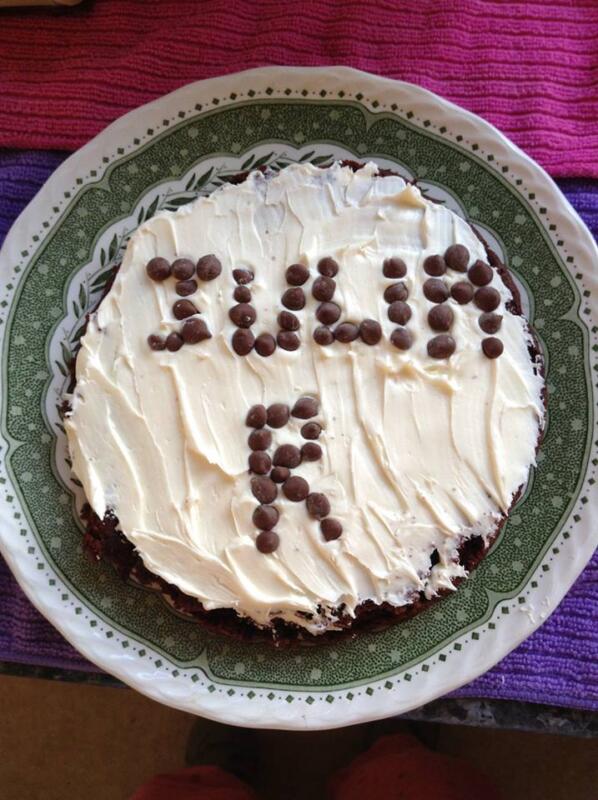 I had been vegan for two years by that point, so I knew I had to perfect a vegan cake. The trouble is, I am far from a baker, and as a result of my hydrocephalus, my gross and fine motor skills are severely impaired. But I had my wonderful mum by my side, and together, we baked a cake for Julia's birthday, watched Pretty Woman and had a wonderful day.
It was never intended to be a tradition. Yet when the next year rolled around, I asked Mum if she'd be willing to help me with another cake and she agreed. We had another beautiful day together. Baking, watching so many different Julia movies, and making up fun games to play such as Julia trivia and "Top 5 favourites".
By that time, I'd already consumed Julia's entire filmography and was a big part of the fandom. I had made friends online with the most adorable group of fellow fans, living all over the world. We had become a little family. The beauty was, because the prime of Julia's career had passed, it was just a small group of us that shared in the enthusiasm regarding anything and everything that she did.
Fast forward to the year 2020, and the pandemic was in full swing. My tradition of cake baking for Julia's birthday continued, as once I developed a "special interest", it was there for life.
Mum's health had deteriorated considerably, but she had tried so hard to continue to help me. It had gotten to the point where I would have to bring the cake mixture up to her room so that she could help me mix it from her bed, but she was more than happy to oblige. That evening, I posted photos of the cake on Instagram, which was something that I did every year. I also tagged Julia, herself, in the pictures, as well as Julia's stylist, hairdresser, makeup artist and agent.
Within a few short minutes, I got the notification that I'd been waiting for. "Julia Roberts liked your post." Followed by: "Julia Roberts commented on your post". It was one of the most surreal moments of my life. Julia is an incredibly private person and has her Instagram set so that only people she follows can comment on her posts. She is very quiet on social media, and so rarely interacts with anyone, let alone fans. But for some reason, on that day, the stars aligned for me and she somehow caught wind of my post, acknowledging it with the short but adorable comment: "They all look delicious. Thank you for thinking of me on my special day."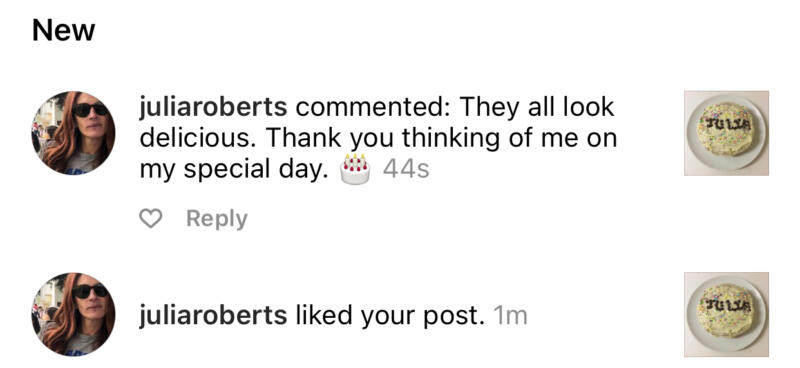 I remember running upstairs to Mum's room, handing her my phone and simply stating "It happened", before lying down on the floor and bawling like a baby. Mum cried too. We were both in complete shock that she'd taken the time out of her busy life to bring so much joy to a random British fan who makes terrible cakes. It wasn't long before newspapers caught the story and I was doing photoshoots and news reports for tabloids. I felt really worried that it would invade poor Julia's privacy, but it was such a feel-good story that I hoped it wouldn't impact her too much. The papers ran some hilarious photos, including some of my beautiful cat – also named Julia Roberts. It was a wild time, but I truly felt like I'd crossed something off my bucket list by being able to have that tiny interaction with someone I cared about so deeply.
Even though she'd become aware of my bakes, I continued the tradition. I didn't care whether or not she ever commented again, because it had become such a wonderful and fun tradition that I wanted to uphold. Mum and I always enjoyed the day, and even though she didn't quite share in my fixation, she embraced and supported me with unconditional love and enthusiasm. In October 2022, I underwent two massive brain surgeries, followed by a third in December 2022. I had only been out of the hospital for a few days when Julia's birthday rolled around, but I was determined. I had to have so much help, and it really was a sad-looking cake, but I didn't break my little ritual and still had my "Julia day" with Mum.
On 9th March 2023, my beautiful mum went to sleep and never woke up. It was extremely sudden and shocking, and my world came crashing down around me. The months that followed were the worst of my life. There are simply no words to describe the agony of losing your soulmate.
I wasn't sure whether it was appropriate to celebrate "Julia Day" without my precious mum by my side. After all, I think half the fun had come from sharing something and celebrating the fact that she always had so much time and understanding for my bizarre little fixations. But eventually, I decided to go ahead with it. I truly believe that Mum would have wanted me to. I popped on my little Julia playlist on Spotify – made up of songs from her various movies, songs that she's said she likes over the years etc – and got to work. Admittedly, it took around three hours to do it alone. My fingers felt broken by the end, and my whole body ached. Even now – two days on – I am still recovering from the energy I spent on baking that silly little cake. But I did it. And I'm so thankful that I did. Even though Mum couldn't physically be there with me, I just knew she'd have been by my side the entire time, cheering me on with her arms around me. I will continue this tradition no matter what. And now, I have two extraordinary women to celebrate.