A team of archaeologists in Turkey have found a haul of Roman makeup, dating back to over 2,000 years ago. The makeup includes blush and eyeshadow, with 10 hues of pigments in reds and pinks.
"One of the most surprising findings was that we came across were makeup pigments similar to blush and eyeshadow used today," Lead archaeologist, Professor Gökhan Coşkun of Dumlupinar University said. He went onto explain that the makeup was in various states of preservation:
"Of course, they are not in a very well-preserved state. Sometimes they are found in 1- or 2-millimeter pieces. We also found well-preserved pieces during the excavation."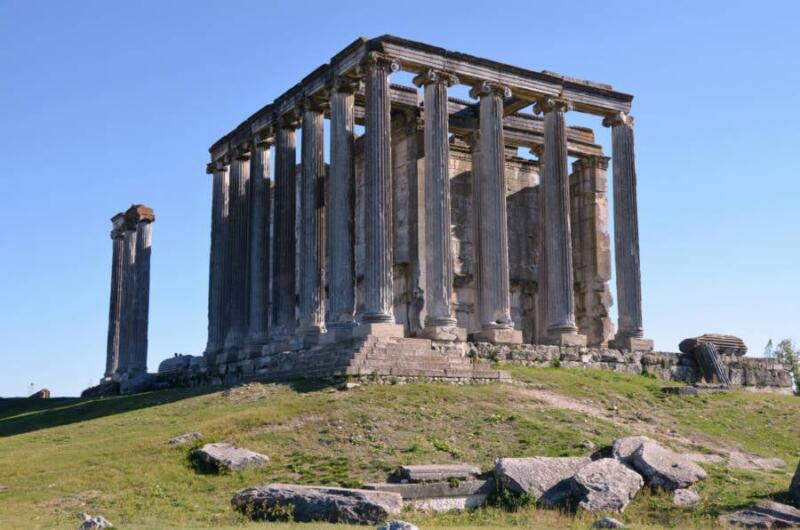 Temple of Zeus Carole Raddato/Wikimedia Commons
The haul was found as the archaeological team excavated a site near the Temple of Zeus in the ancient city of Aizanoi. The area has been under excavation on and off throughout the years. It was first rediscovered in 1824 by European travellers.
In 1926 the German Archaeological Institute conducted a system excavation, which they resumed in the 1970s. Since 2011 Turkish archaeologists have been working at the site.
The area they have uncovered was the Aizanoi market, called an agora. Archaeologists working at the site believe that the makeup was most likely part of a cosmetics shop that would have sold their wares at the market. Other items were recovered at the site included perfumes and jewellery.
"During the excavation here, we encountered a large number of perfume bottles. In addition to these, there are jewelry items. Among these, there are various beads belonging to products such as hairpins and necklaces used by women," said Prof Coşkun.
Excavations in Aizanoi between the years of 1970 and 2011 uncovered the remains of many different structures and buildings. These include public baths, a gymnasium, bridges, a necropolis, and a sacred cave, which is believed to be an ancient cultist site.
The marketplace has also been a mecca for archaeological finds. In 2021 a bone workshop with tools and an oil lamp shop which featured intact lamps were discovered. It is expected that more shops will be uncovered later this year.