While they usually evoke images of children flying them at parks and the beach, in the future it may be a normal sight to see kites at the bow of a boat.
That's what Airseas hope. The company is a startup that have spent the past six years developing a kite that can help cargo ships become more fuel efficient.
The kite in question has been named Seawing, and may help ships reduce their fuel emissions by between 10 and 40 percent. The 2,700 ft parafoil works like most kites do, by harnessing the power of the wind. It flies at an altitude of 200 metres, which allows it to harness stronger and steadier winds.
The Seawing was developed by a team of former Airbus engineers. They saw a market for cleaner energy in the cargo ship sector. International shipping accounts for 3 percent of carbon emissions, with most ships using diesel combustion engines. Whilst zero-emission electric boats will hopefully become increasingly common, Seawing offers a solution to boats that are currently in commission.
"We are proud to have a solution that can help ships reduce their emissions right now, and accelerate the decarbonization of the maritime sector over the coming years," Vincent Bernatets, CEO of Airseas, said in a statement.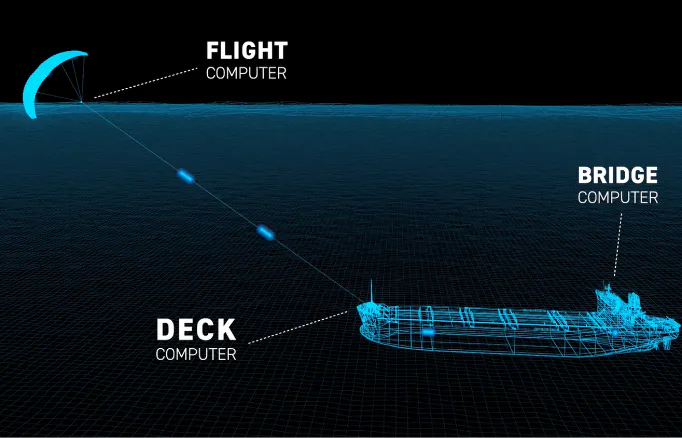 Unlike a regular kite, the Seawing's parasail flies with a figure-of-eight trajectory at over 100 km/h. It is completely automated too, with a computer attached to the Seawing, one on the deck, and one on the bridge of the boat. Whilst the kite is flying physically in real-time, a 'twin' version is being recreated in a simulation. The physical kite is in constant contact with the computer-simulation, which makes adjustments based on digitally-calculated scenarios. Airseas say:
Our digital twin technology places the kite in its ideal flight window to maximise traction power and fuel savings. Based on digitally calculated scenarios, the wing adjusts its position depending on the wind direction and speed, as well as the ship speed and route. This optimises performance, thereby reducing engine effort and generating maximum savings.
Airseas are currently trialling the Seawing. As well as their 2,600 ft parasail, they have a 5,400 ft offering. A 10,800 ft one is currently in development. By 2030 the company hope to have it installed on 10% of the global fleets.