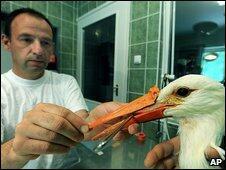 On May 19 2009 a stork was given a special delivery, it received a new beak. The stork had damaged its beak in an accident and required a new one. It was taken to Hortobagy Birds Hospital, 111 miles east of the capital Budapest.
The bird's beak was repaired by veterinarian, Tamas Kothay, who rebuilt the bottom beak and made an entirely new top part out of resin. The operation was a success and the stork was released into the wild.
Know somebody that needs a positive news boost? Share this good news story on any of the social media networks below.