If you thought that books were the only item you could check out of a library, then you're in for a surprise. One particular library has decided to push the creative bar and are now allowing patrons to check out robot cats.
The robot cats are just like real cats, and will sit on your lap, purr, and enjoy nothing more than a good brush.
Eugene Public Library in Oregon, USA, has a dedicated section to checking out non-literary items called The Library of Things. Amongst the items you can loan are board games, arts and crafts, and even musical instruments.
Oh, and robot cats! Kate Berry, an adult services supervisor with the library spoke about the feline additions to the library:
"We have three that circulate," Berry said, holding the fuzzy robot kitty. "We have one in each branch. They all look the same. But they do have particular names to them. If you're curious, they're Bandit, Mr. Pickles, and Percival. Those were chosen by staff."
The cats were brought in for a special reason too, with Berry saying that they were bought for those who may have memory loss, or may be alone and in need of the company.
"But really anyone can check them out. They purr. They meow. They're really fun to have," she said.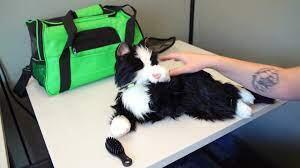 The staff have also enjoyed the benefits of the robot cats, and have bought two additional ones to keep in the library.
"They're really calming," Heather Sears, a children's services supervisor at the library said. "There's research that shows cats purring is therapeutic. So we have a kind of quiet room that we have placed one of our cats. Staff have actually really enjoyed that — maybe you had a stressful part of your day or something's happened and you just need a moment, and you can come hang out with one of our cats that are here that are not circulating."