In a story that reads like a Disney tale, a baby turtle has survived a perilous journey from the USA to Ireland.
The young Loggerhead turtle was found by Cormac de Róstie and his daughters on a beach in Ireland. She was beached upside down when they discovered her, and suffering from hypothermia due to exposure to the cold water.
The de Róstie family rang around and found Kevin Flannery, the director of Dingle Oceanworld Aquarium. He made a 12 hour round-trip to pick the young turtle up.
The Loggerhead was named Cróga, the Gaelic word for brave. And Cróga must have been brave to have made the trip thousands of miles from where she was supposed to be.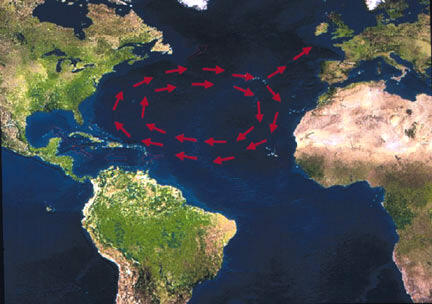 Loggerhead turtles usually hatch in southeastern US states, such as Florida and the Carolinas- it is South Carolina's official state reptile.

A few days after hatching, the turtles make their way to the Gulf Stream- a major ocean current that sweeps northward along the southeastern United States coast.

The warm current is the ideal place for these young turtles, and allows them a sort of turtle playground. Here, the turtles take shelter in floating seaweed, and they grow and develop for several years before migrating elsewhere.
Road to recovery
When Cróga was found she weighed only 1 pound (0.45kg) and the size of a dinner plate. A Loggerhead turtle of a similar age will usually weigh around 45 to 90 pounds (20.4 kg to 40.8 kg), according to Flannery.
To give Cróga a fighting chance of survival Flannery, who is also a marine biologist, had to work fast. He injected the reptile with saline to rehydrate her, and raised her body temperature slowly over several days to avoid shock.
The cold water of Ireland would usually kill most Loggerhead turtles, as they are meant for much warmer climates. Flannery described how Cróga had survived against all odds:
"Usually, birds would have picked them off or a shark or something would have eaten it or the cold shock from the water would have killed it," he said. "They would also die if washed up on rocks upside down. Being so tiny it's an absolute miracle it survived."
Since being in Flannery's care Cróga has gained an additional 1.7 pounds.
"It's quite voraciously feeding now," Flannery said.
Cróga's has since been joined by two additional Loggerhead turtles at the aquarium, who also washed up on beaches in Ireland. Once the turtles are well enough, they will be relocated by the Irish navy to the Mediterranean sea.
"The Irish Naval Service heading to the Mediterranean on humanitarian missions sometimes carry them down for us and release them into the water where the temperature is ideal," Flannery said.
"This is where they spend their teenage years before drifting back to the Caribbean on the Caribbean current. When they are about 20 or 30 years of age the female goes ashore and lays her hatchlings."